Pressure-Sensitive Adhesives
SK-Dyne (Acrylic Pressure-Sensitive Adhesive)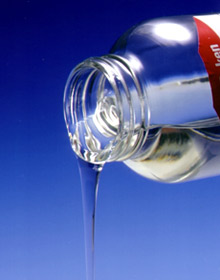 SK-Dyne acrylic pressure-sensitive adhesive is based on Soken's polymer design and evaluation technologies. In addition to the basic "adhesion and peeling" functions, SK-Dyne offers a wide variety of additional functions according to the type of adherent, application and use environment, with an extensive lineup of more than 300 products.
SK-Dyne is manufactured in our customized production facilities. It is used in a wide range of applications in industrial fields such as IT devices, automobiles, building materials, electronics and optical devices, as well as in household products such as double-sided tape, packing tape and adhesive plasters.

The difference between "adhesive" and "pressure-sensitive adhesive"
▼
Do you know the difference between "adhesive" and "pressure-sensitive adhesive"?
Both are used to bond objects together, but an adhesive is a liquid that comes in a tube or similar container and is pasted onto the material to be bonded. The material must be attached to the other material to be bonded before the liquid cures. On the other hand, a pressure-sensitive adhesive is coated onto a supporting medium such as film or paper, which is then processed into adhesive tapes or sheets. These adhesive tapes are easy to handle and can be attached at any time.
Adhesives cannot be "peeled off", but pressure-sensitive adhesives can be made with a varying degree of adhesiveness from the "peelable" type (which can be peeled off at any time) to the "strong adhesion" type (which cannot be peeled off) according to the type of application or purpose.
Search by product category
Items representing the wide lineup of SK-Dyne series products are categorized below.