Tape SM-0420NH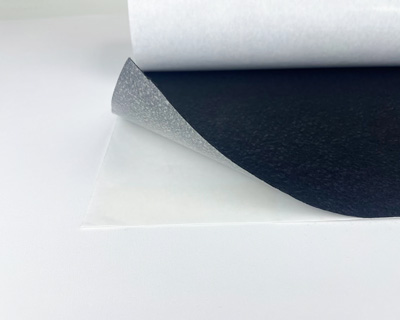 General Description

Soken Tape SM-0420NH is a toluene free Non-woven based single-sided tape. Low VOC double-sided tape t=0.12mm which has a high adhesion to various materials is laminated to black non-woven material t=0.4mm.Total VOC content is far lower than ordinaly products and it reduce influences on environments human body and human bodies.
---
Product Configuration

Tape Thickness: 0.140mm (not including release liner)

| | |
| --- | --- |
| | Black Non-woven Material (t=0.4mm) |
| | Double-sided tape (t=0.12mm) |
| | White release paper |

Total thickness : 0.520 ± 0.062mm
---
Characteristics

・Raw materials don't contain the 13 kinds of hazardous materials that Health Ministry of Japan's designated
・Toluene free, the total VOC content is lower than ordinary products, and is more suitable for indoor or closed space use.
・Good attachment against low surface energy material such asPP and foam materials,etc
・Excellent performance under a wide range of temperature.
---
Applications

・Bonding Automobile Interior Materials
---
Properties

Item
Value
Test Procedures
Peel Strength
(N/25mm)
13.7
180 degree peel at 300mm/min,
23℃ 50%RH, to SUS plate, 20min conditioning time
Holding Power
(mm)
0.5
Weight held for 1 hour to SUS with 20×20mm overlap, 1Kg at 40℃, 20min conditioning time
Ball tack
22.0
23℃50%RH, according to J.Dow method
Laminate strength
(N/15mm)
2.5
15mm width peel by T shape direction at 200mm/min 23℃ 50%RH measure between Black non-woven and double-sided tape
Abrasion
(Class)
5.0
JIS L1096 (Taber mathod) Wheel No:CS 10, Load:2.45N, Stroke:100 times
---
Shelf Life

12 months from date of manufacture when stored in original cartons at-5 to 40°C and relative humidity below 70%
---