PE laminated cloth tape CW-17C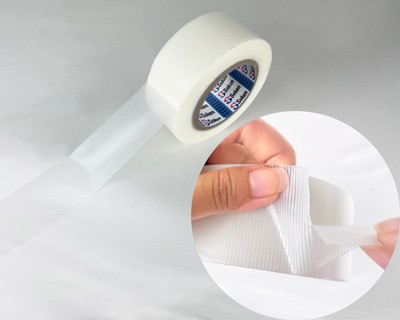 General Description

Soken tape CW-17C is PE laminated cloth tape based on pressure sensitive acrylic adhesive, Which can be used for packing and bonding the products.
---
Product Configuration

| | |
| --- | --- |
| | PE laminated cloth (White) |
| | Acrylic Adhesive Tape |

Total thickness : 0.10 mm
---
Characteristics

・MD can resist stretching, TD can be torn easily
・Good resistance against weather, water and temperature
・Good adhesion strength and cohesion, high Ball Tack
---
Applications

・Packing industry.
・Temporary bonding for parts of electrical appliances, automobile and OA machines etc .
---
Properties

Item
Value
Test Procedures
Peel Strength
(N/25mm)
8.4
180 degree peel at 300mm/min 23℃50%RH, to SUS plate, 20min dwell
Holding Power
(mm)
0.5
weight held for 1 hour to SUS with 20mm×20mm overlap, 1Kg at 40℃, 20min dwell
Ball tack
24
23℃50%RH, according to J Dow method
---